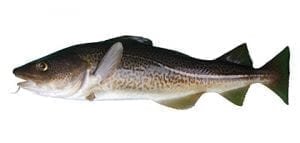 Also known as sablefish, the black cod is a seafood lover's guilty pleasure. The drab black-brown skin of the black cod betrays the silky meat beneath. Every bite is rich and buttery, providing the consumer with full dose of healthy omega-3 fatty acids. The black cod is the highest valued finfish per pound in Alaska's fisheries, where it is caught sustainably. Choose the black cod as a succulent addition to your menu and your customers will be very pleased.
Melt-in-your-mouth quality
The black cod is also known aptly as the butterfish due to its rich oil content. The oily fillets are perfect for smoking and barbecuing for mouthwatering entrees. The rich meat benefits from salty or acidic flavorings to tone the natural oils. Baking, broiling, grilling and sautéing are all excellent ways for your chef to prepare the black cod for melt-in-your-mouth entrées that will entice diners to return again and again.
Sharing the catch
For the last 20 years, the black cod fisheries have been under an individual fishing quota (IFQ) program. This system allocates a set quota of the total harvest to individual fishermen so that they can harvest their catch within a longer season. The IFQ method reduces competition between fishermen to catch more fish, lessoning the pressure on the wild populations of black cod. It also makes the fishing season safer for fishermen, as they are better able to set a fishing schedule and avoid bad weather. Black cod are caught with pots and longlines and effective management has greatly decreased bycatch. A special effort is being made to introduce the black cod to aquaculture in Canada and the United States to relieve even more pressure off the wild stock.
The black cod is a beautiful example of a sustainable, well-managed fishery that is highly successful. Establishing such an ocean friendly system ensures that fishermen will retain jobs and seafood connoisseurs will enjoy their guilty pleasure for many generations to come. Buy your wholesale black cod from Pucci Foods and provide your customers with healthy, sustainable black cod.
Order your wholesale black cod by completing the form on this page and a member of our team will be in touch soon.