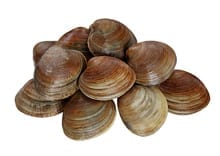 These tasty little bivalves have a smooth yet delightfully chewy texture sought after by seafood diners. With a high versatility for culinary exploration, the various types of fresh clams we offer make an exciting choice for your menu. They can provide a healthy flair to an appetizer or crown the main dish. Nutritious as well as delicious, clams provide a fantastic dose of vitamins, minerals and omega-3s.
Dare to explore
Fresh clams offer us a unique opportunity for to experiment – no matter what recipe enthralls your chef, the result is destined to thrill your diners! They are widely enjoyed raw on the half shell, stir-fried in a spicy sauce, broiled, baked, fried, steamed, or tossed in the traditional favorite clam chowder. Their unique, mild flavor lends to an endless list of culinary opportunities to explore. Your customers will be delighted with a myriad of delectable dishes from which to choose.
Sustainability whether farmed or wild
Clams are much easier to farm than finfish. Unlike fish aquaculture, filter-feeding shellfish do not require forage fish in the form of fishmeal or fish oil. Their only requirements are space and plankton-rich water from the natural environment and farms produce miniscule amounts of waste. When wild clams are harvested by hand, the fishermen are allowed to be highly selective and tend to have very little impact on the environment. In almost all areas where clams are collected by hand, stock assessments are conducted regularly to make certain their population numbers continue to be robust.
When you buy from Pucci Foods, we guarantee to provide you with only the freshest, highest quality shellfish that are caught and farmed sustainably. Help protect our coastlines and choose to buy your fresh clams from us today. Your diners will be pleased to buy healthy, sustainable seafood.
Begin the culinary exploration by filling out the form on this page and a member of our team will reach out to you soon.