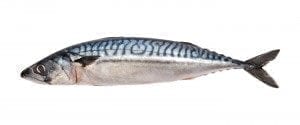 Fresh mackerel fish are the hidden treasure of the seafood world. A lesser-known finfish, mackerel fillets have a surprisingly rich taste and buttery texture. The oily, dark meat is dense with omega-3s and mackerel is considered a healthier option than many other fish. Mackerel has a pure, melt-in-your-mouth quality that makes it a delightful choice that will appeal to your diners.
Cooking your mackerel
Mackerel fish fillets will add a unique, flavorful and healthy flair to your menu. They are especially excellent when grilled or fried, but have a distinctly pronounced flavor when served raw as saba. The high oil content holds moisture extremely well if barbecued or smoked. The rich taste is complemented well with sharp, acidic sauces and marinades. Your diners will be enthralled with the delectable quality of the mackerel fish.
A model of sustainability
Mackerel fish mature very quickly and produce many offspring, making them resilient to overfishing. They are usually caught with highly selective purse seines that allow bycatch such as sea turtles or dolphins to be released unharmed. With minimal impact on the environment, most mackerel fisheries are on the green list of sustainable seafood providers.
Pucci Foods is excited to provide an array of delectable finfish and shellfish for the enjoyment of Bay Area businesses, retailers and institutions. Our shelves contain the commonly sought-after favorites along with a few succulent surprises, such as the mackerel. Join us in helping preserve our natural ocean resources and provide your clients with our wholesale mackerel fish.
Order your wholesale mackerel fish by completing the form on this page and a member of the Pucci Foods team will be touch right away.