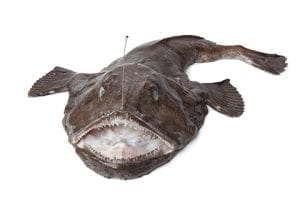 Just as the mahi mahi is the most beautiful fish in the seas, the monkfish is perhaps the ugliest. But what it lacks in beauty, it makes up for in taste. A succulent, firm texture and a buttery flavor blend to create a culinary dream for a seafood enthusiast. Monkfish is highly versatile and perfectly delectable in countless recipes. Once known as the "poor man's lobster" the monkfish is now a highly value delicacy that will make an excellent addition to your menu.
Firm, mild and sweet
The deliciously edible parts of the monkfish are the liver and the tail, proving a unique and mild flavor. The tail meat is firm and dense, similar to scallops and lobster rather than flaky fish. This firm texture greatly expands the cooking possibilities, making monkfish a delightfully versatile menu item. Bold marinades and zesty sauces compliment the slightly sweet meat, creating an exciting and exotic dish for your diners to enjoy.
A success story
Monkfish are vulnerable to overfishing and their numbers in the past have been depleted. A well-crafted management approach implemented in the late 1990s has halted their decline and imposed positive changes that have rebounded fisheries to a sustainable level. Monkfish are caught by bottom trawl and bottom gillnets, both of which have some bycatch concerns for groundfish and Atlantic sturgeon. There is a focused effort in the industry to reduce this bycatch.
We believe it is vital for all fisheries to craft effective management strategies to create environmentally friendly fishing methods. By purchasing seafood from fisheries that strive to protect our oceans, we encourage others to adapt their practices and work towards sustainability. Buy your wholesale monkfish from us and join the effort to encourage global sustainability.
Purchase your wholesale monkfish from Pucci Foods by filling out the form on this page. A member of our team will contact you right away with your order details.