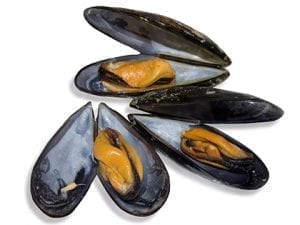 Dense with flavor and nutrition, mussels are an elegant and healthful addition to your menu. Fresh mussels are light, tender with a slight chewiness, finishing with just the barest touch of brine. With a high content of vitamins and omega-3 fatty acids, they are an excellent heart-healthy option. Mussels are farmed and wild-caught with ocean-friendly methods, providing a sustainable choice that your diners will gladly make.
Best served steamed
Mussels offer a unique flavor that can best be described as a delicate blend between clams and oysters. Your diners will enjoy tasting the nuances between each of these unique shellfish. A traditional favorite recipe involves steaming mussels in white wine and garlic for a wonderful seafood treat. They can also be baked, broiled, smoked, or sautéed to create tasty appetizers or a mouth-watering main dish for your seafood loving customers.
Sustainably farmed
Like oysters and clams, mussels are filter feeders – so they do not require fishmeal or fish oil when farmed. Shellfish aquaculture of mussels relieves the pressure on wild populations of forage fish used to make fishmeal. Mussels are grown suspended in the water, so they don't rest on the seafloor. This helps protect benthic habitat since farmers do not have to dredge the bottom to collect the shellfish. The mussels even help improve the surrounding marine habitat by filtering algae out of the water!
Pucci Foods is pleased to be the Bay Area's premiere provider of fresh mussels and a variety of other shellfish. We choose only the highest quality seafood products that help protect our ocean and sustain the future of our fisheries and farms. We urge you to join us in protecting our coastlines by purchasing sustainable mussels from us today.
Enjoy your wholesale mussels by filling out the form on this page and we'll be touch soon!