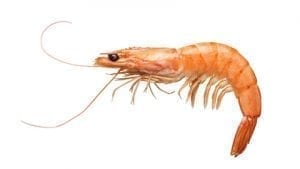 Pink shrimp are one of the most important commercial shrimp species in the world. They are found in oceans of the northern hemisphere up to depths of several thousand feet and rarely grow larger than five inches. Shrimp fisheries in particular sometimes have high levels of bycatch and negative environmental and social impacts where they are caught and farmed. You can trust that when you buy pink shrimp from us, you providing your clients with a sustainable, environmentally friendly seafood product.
Sweet little bites
Pink shrimp are tiny, plump, sweet and bite-size. They are an excellent flavorful garnishment for many items on your menu including salads, quiches, omelets and atop other seafood. Your diners will love adding these little flavorful bites to their favorite dishes. They cook quickly and easily, sautéed with butter and garlic, pan-friend or boiled. Since they have a rapid cook time, it is best to have an attentive cook keep a watchful eye on them.
Working to protect other species
Pink shrimp are highly productive and resilient to fishing pressure. Shrimp trawlers are required to have bycatch reduction and turtle exclusion devices, which work to protect other vulnerable marine species. With an effective management approach, the pink shrimp industry works to conserve the ocean environment.
We are pleased to offer high quality pink shrimp that are caught with sustainable methods. Choose pink shrimp from Pucci Foods and know that your buying power is protecting the natural resources of the world's oceans.
Purchase your wholesale pink shrimp by filling out the form on this page and our team will be in touch soon.