Pucci Foods' Employees and Our Purpose-Driven Culture
At Pucci Foods, our employees are the key pillar of our business. Our diverse work family is a group of highly motivated individuals who have embraced our core values of quality, innovation, and integrity.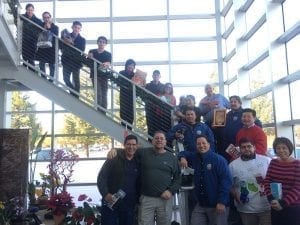 A corporate culture starts with great leadership. Pucci Foods' CEO Chris Lam came to America with limited resources. He understands the value of an education and hard work. As someone who gets in there and rolls up his sleeves, Chris values employees who work alongside him with the same dedication.
Pucci Foods is committed to empowering our employees and providing them with the tools to achieve upward mobility in their careers. We challenge our employees to think creatively and we have built a team-centric culture where innovation is rewarded. We encourage our employees to share their strengths and knowledge and mentor those with the same desire to learn.
We are always looking for purpose-driven and inspired people who fit into our corporate culture and show the same care for people, the community, and sustainability of our products. We value people who are eager to adapt to new technology and aren't afraid to challenge themselves.
It is important for Pucci employees to be able to have a wholistic approach to life and work. They are encouraged to work hard, but also to nurture their sense of fun and creativity. Team-members at Pucci work together to get things done, and to make each other laugh whenever possible. This wholistic approach to embracing the driven side of ambition and the lighter side of life makes for a dynamic and creative environment, where employees get to act as complete people.
Pucci Foods continues to enhance our employees' skills through coaching and educational programs. It's our belief that a person should have self-satisfaction for a job well done. We want our employees to be able to look back on their life and say, "I've learned something, I've made a difference and I've accomplished something in my life."