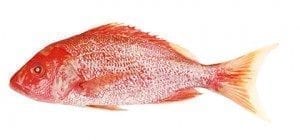 Red snapper are attractive fish that boast deep red scales and curiously large canine teeth. They are an iconic American fish and have been extremely popular with commercial and recreational fishermen for over a century. Red snapper fillets provide an excellent meal of lean protein and a moderate dose of essential fatty acids, making it the perfect healthy addition to your menu. Buyer beware – it is common for red rockfish imposters to be sold with the label of red snapper. When you buy from Pucci Foods, you have our guarantee that your red snapper is exactly that – genuine red snapper.
Keep it whole
Red snapper is a lean fish that is low in saturated fat, yet it provides a rich and distinctive flavor. Fillets are moist, making it a beautiful fish for grilling, steaming and baking. Your chef may enjoy stuffing red snapper with fresh herbs and seasonings, baking it whole for a lovely presentation. Leaving the skin on is a sure way to make certain you have red snapper – the skin will not curl on a red snapper, but it will on an imposter. Your diners will rejoice to true red snapper on your menu.
On the way to recovery
Due to it's extreme popularity, red snapper populations in the Gulf of Mexico and the U.S. South Atlantic were declared to be overfished years ago. As the number of fish declined, the number of fishermen remained high and they raced to catch their share in an unsustainable competition. Commercial fishing became unsafe and inefficient, only catching juvenile rockfish that had not yet had a chance to reproduce. It was the fishermen that turned this situation around – they voted to to change the fishery and create a "catch and share program". Under this program, regulations were set to limit the amount of red snapper that could be caught every year and then fixed shares are allocated to fishermen. This greatly reduced the competition between fishermen and eased the pressure on the wild populations of red snappers.
Although the fishery in the South Atlantic is closed, the Gulf of Mexico fishery is now well on it's way to recovery. The decline of wild red snapper has been halted and managers have even recently increased the number of red snapper that fishermen can catch. This history of the red snapper fishery is very important. It shows that excellent results are achieved through cooperation and proper management. These fishermen saw that their livelihood was likely to disappear unless they took action – so they decided to halt the decline before red snappers were gone forever.
The story of the red snapper is uplifting for any seafood connoisseur or environmentalist. It is imperative we learn from these examples and employ their success to any and all fisheries that are facing failure. Join Pucci Foods in creating a healthier future for our coastlines and buy your seafood from businesses that are certified by the Marine Stewardship Council.
Order your wholesale red snapper today by filling out the form on this page. A member of our team will be in touch right away.