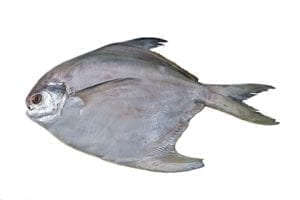 Silver pomfrets are odd but beautiful fish, with flat silver bodies and deeply forked tails. They are distributed from the Persian Gulf to the Indo-Pacific region and tend to move in schools along the seafloor. They have a single bone, which makes preparing and cooking them especially simple. Low in calories and fat but rich in protein and omega-3 fatty acids, silver pomfret will make healthy menu item for your business.
Dress with vibrant or subtle flavors
The mild, sweet meat of the silver pomfret is complimented well by zesty spices and tangy marinades. There are many traditional Indian recipes to make mouth-watering masala pomfret and tandoori pomfret. With a delicately light fish taste and white firm meat, the silver pomfret is also excellent simply grilled with fresh vegetables and sweet soy sauce, although a favorite recipe involves breading and frying fillets. For an especially healthy option for your diners, silver pomfret can be steamed or baked to produce a delightfully buttery taste.
A promising future
The population status of silver pomfrets has not been assessed, but movements are underway to determine their numbers. We do know the wild stocks are smaller and less abundant than they once were. It is likely that in the near future conservation and management programs will be set in place so that this tasty fish will continue to thrive.
It is critical for those of us in the seafood industry to support the movement towards sustainability. It is up to us to ensure that our oceans will continue to teem with life for all future generations to enjoy. A huge part of establishing sustainability is using our buying power for good. By purchasing seafood from businesses that carry a sustainability certification from the Marine Stewardship Council, such as Pucci Foods, your buying power is supporting the growth of ocean friendly fisheries.
Order your wholesale silver pomfret by filling out the form on this page and a member of our team will be in touch soon.