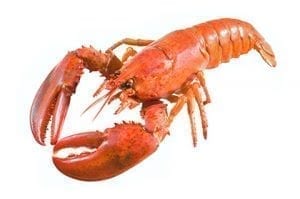 Tiger shrimp are impressive creatures that can grow up to 13 inches in length and boast black stripes down its shell from which the name originates. Most tiger shrimp are farmed in Asia, although there is still some wild harvesting. Shrimp are the world's most valuable seafood and a top choice for U.S. consumers. Easy to prepare with a mouth-watering quality, tiger shrimp will make an excellent appetizer or main dish for your menu that your customers will greatly enjoy.
Deliciously versatile
Tiger shrimp have endless versatility, allowing your chef to spice up your menu in any number of ways. Tiger shrimp tails may be used as a classic shrimp cocktail hors d'oeuvres or they may be grilled on skewers. Tiger shrimp offer a mild, sweet taste with a crunchy texture that holds up well whether they are deep fried and provided with a tangy sauce, stir-fried, sautéed, grilled, broiled or served for sushi as ebi. Your diners will love the options and be thrilled with the flavor.
Addressing environmental impacts
There is much concern about habitat damage and pollution of the surrounding environment caused by some shrimp farms. Shrimp that are farmed in recirculating tanks or ponds address some of these concerns by providing an enclosed, non-polluting space with which to grow shrimp. New methods have been developing that incorporate a shrimp farm within a healthy mangrove system so that both may coexist with little to no habitat infringement. Hopefully, this will soon be the model for all shrimp farms.
The power of the consumer is an incredible thing. Our choices at the market are able to influence industries on the other side of the world. When we use our buying power to support businesses that carry the blue ecolabel of sustainability from the Marine Stewardship Council – such as Pucci Foods – we are helping build a better future for our children so they may enjoy the bounties of the ocean.
Order your wholesale tiger shrimp by filling out the form on this page and we'll be in touch soon.