Millennials are the fastest growing population on the planet, on track to outspend Baby Boomers very soon. Next year, U.S. Millennials will spend an estimated $200 billion, according to Advertising Age. So how can you capitalize on some of that buying power? Here are some simple strategies to employ if you're looking to catch the eye of the largest generation currently on earth.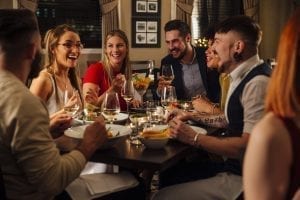 1.Get Social
Millennials grew up in the age of the internet and the cell phone. They generally avoid traditional channels of media and spend lots of time on social media. If you want to sell seafood to Millennials, especially in the tech-centered San Francisco Bay Area, go where they are: online. If your market doesn't already have a Facebook page, Twitter account and Instagram account, create them and spend a few minutes a day posting. Encourage customers to like your page and follow your accounts. Use customers to spread your message as well. For instance, offer a special sale price to those who "check in" to your market on Facebook. "Checking in" takes about ten seconds, and voila, now all your customers' Facebook friends see that she just bought fish at your market. They'll even see exactly where your market is located. Many customers are sure to personalize the check-in post, giving you a shout-out to dozens, if not hundreds of people. Last but not least, make sure to incorporate video on your social media accounts. Younger generations gravitate more toward online videos than any other medium, according to experts.
2.Make it Easy to Buy Your Products Online
It's hard to get Millennials physically into stores. They are the least frequent in-store shoppers and respond the best to online shopping opportunities, whether it's clothes or seafood. Consider taking online orders through your website to reel in these elusive shoppers. If you have the staff, you might try a fee for deliveries within a certain radius of your San Francisco Bay Area market. Or, you can require orders be picked up in the store. The key is that Millennials are motivated by how easy it is to buy something with the click of a button from the comfort of their homes or their cubicles.
As a side note, when you consider your online presence, make sure you are "mobile friendly." Millennials spend hours each day on their phones, so if your website isn't adapted to be viewed on a phone, spend the time and money to fix it.
3. Highlight Your Values
Marketing experts agree that many Millennials distrust corporations and are suspicious of advertisements that target them. They tend to prefer brands that prove they give back or act according to the same values they hold dear. This is a generation that would rather work low-paying jobs they love than high-paying jobs that demand they compromise on their dreams and their ethics. If your seafood market gives back to the community or contributes to a cause, let your customers know. If you operate with environmental issues in mind, take pride in your green strategies. Weave your values and your involvement into your social media posts and your in-store environment, but make sure you do it in an honest, transparent, and informative way. Studies also show that Millennials know when they are being appealed to and hate thinly-veiled advertisements or gimmicks. At the same time, they want to be part of something bigger than themselves. Show them how they can be part of the solution, or part of a larger cause by being your customer.
Last but not least, remember that Millennials aren't necessarily looking for the best deal. Industry leaders point out that they will spend more on products they see as high quality or part of an exclusive club (think Apple), or an underdog (small businesses versus chains and corporations). So if you're looking for a way into Millennials' wallets, you might just have to win their hearts first.