With the global seafood market evolving, sustainability isn't just a buzzword anymore – it's a business imperative. As one of the leading wholesale seafood distributors, Pucci Foods stands at the forefront of this change.
Seafood lovers are increasingly mindful of what they consume, not just in terms of quality and taste but also the environmental footprint it leaves behind. They're eager to support businesses that go the extra mile to protect our oceans and marine life. This shift has created new challenges for seafood wholesalers, as we must not only meet demand but do so in a manner that is good for our customers and, more importantly, for the planet.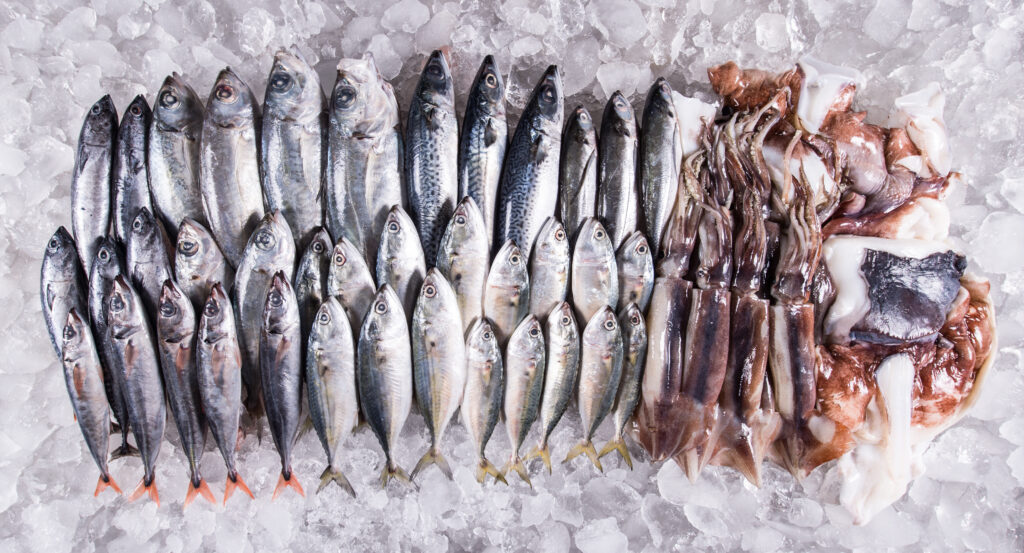 Pucci Foods has been around for over a century, a testament to our ability to adapt to the changing times. From our humble beginnings in 1918, our commitment to providing top-quality seafood has never wavered. And now, we're doing more than ever to safeguard the legacy of our company.
The Pucci Approach to Sustainability
Our journey towards sustainable seafood started in 2002 when we moved to our new facility in Hayward, powered by the city's largest solar panel. This marked a significant step in our efforts toward environmental responsibility and innovation.
Our commitment to sustainability doesn't stop at solar power. We have implemented rigorous upgrades to our supply lines, ensuring they operate in the most sustainable way possible. We've also expanded our supply network, partnering only with suppliers who share our dedication to sustainable fishing practices.
Our dedication to sustainability was recognized in 2015 when we received the Sustainability Award from the City of Hayward. But awards are just milestones on our journey. What truly drives us is the knowledge that we are making a difference, ensuring the longevity of our oceans and the seafood they provide.
Navigating the Demand
Our next step is to meet the rising demand for sustainable seafood head-on. It means strengthening our ties with local fishermen and prioritizing relationships with partners who share our commitment to sustainable fishing practices.
This focus not only enhances our efficiency and cost-effectiveness but also ensures that we're offering seafood that aligns with our customers' values. We understand our vital role as seafood wholesalers in providing sustainable choices to the market.
Ensuring Quality
Sustainability and quality are two sides of the same coin. It's not enough to deliver sustainable seafood if it doesn't meet our stringent quality standards. We never deliver anything we wouldn't accept ourselves.
We have invested in a tray pack and processing program to address labor shortages and maintain our high-quality standards. Our goal is to ensure that our products are ready for sale or cooking with minimal effort without compromising quality or sustainability.
Strengthening Local Relationships
We have deepened our relationships with local fisherfolk who share our dedication to sustainable practices. By sourcing more of our seafood locally, we can reduce our carbon footprint and support local economies.
Educating Our Customers
We believe that informed customers make sustainable choices. We share our knowledge about sustainable seafood with our customers. Whether it's explaining the merits of seasonal eating or sustainable seafood options, we are committed to helping our customers make the best choices for their needs and for the planet.
The Pucci Promise isn't just about doing what's right – it's about doing what's necessary for the future of our industry. We believe that taking care of the Earth is as important as caring for our customers. This belief guides every decision we make, from the suppliers we work with to how we operate our warehouse.
Your Partner in Sustainable Seafood
As a trusted partner for wholesalers, retailers, and restaurants, we understand the unique challenges that come with the rising demand for sustainable seafood. We are here to help you navigate this new landscape with confidence.
If there's one thing we know for sure, it's that the future of seafood lies in sustainability. And Pucci Foods will continue to lead the way, ensuring you can meet your customers' needs today while protecting the oceans for tomorrow.
Partner with us as we set sail into a more sustainable future. Because at Pucci Foods, we believe that the best seafood is not just caught – it's carefully and sustainably sourced.