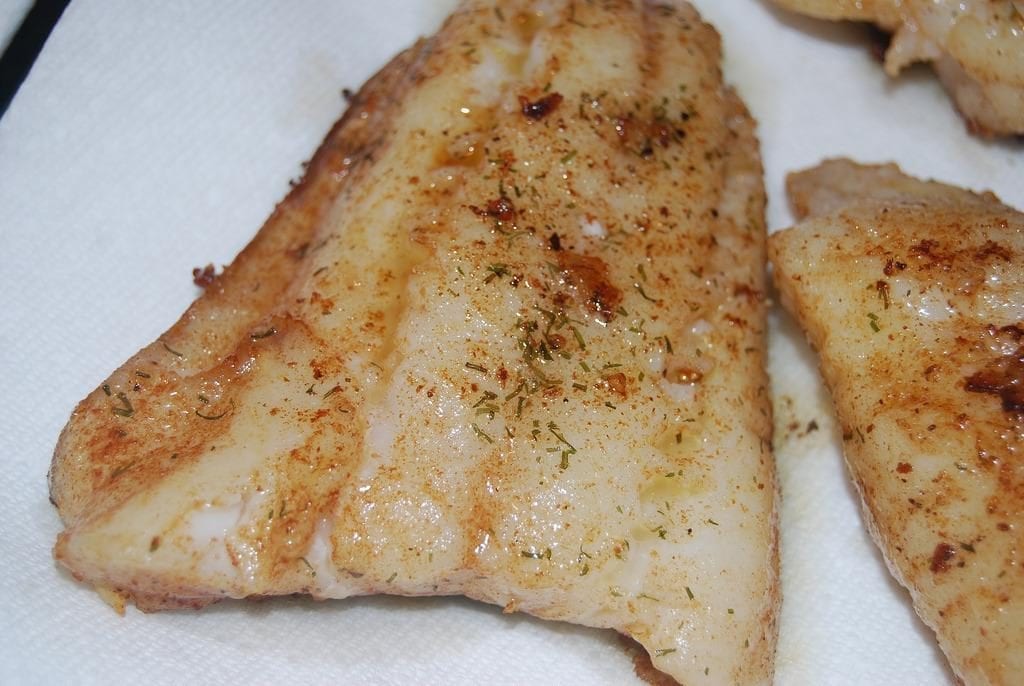 I think a lot of us, me included, are guilty of thinking that customers only care about price when they shop for seafood–that they're really just looking for the best buy, not necessarily the best quality or the most ocean-friendly. But fascinating new research shows shoppers actually value the sustainability of seafood sources above market price. On average, consumers are willing to pay 11 percent more for fish with the Marine Stewardship Council seal or other third-party certification. That's great news for retailers who value sustainability.
So what should vendors do with these findings? October, as National Seafood Month, is the perfect time to highlight sustainable and lesser-known fish using brochures, demos, and signs about certification. Here are five ideas to make the most of October:
1. Stock and Highlight Lesser-Known Fish. Every year, salmon, shrimp, and tuna come in as the three most consumed seafoods in the U.S., 2016 included, and the rest of the list doesn't usually change much year to year. Seafood vendors can always expect old favorites like cod, catfish, tilapia, and crab to top the list. But part of being a sustainable seafood vendor is diversifying what we sell. Easing pressure on popular species helps them thrive and opens markets for new ones. While we love our salmon and Dungeness crab in the Bay Area, there are plenty of other species worth celebrating.
Sardines became a darling of West Coast restaurants 10 years ago, but fresh local herring, basically a larger version of a sardine, has yet to get its day in the sun. If customers mention they're looking to eat healthy, point them toward the herring. The fish are loaded with healthful omega-3 fatty acids and are a flavorful, versatile fish, that's also local and sustainable. (though it is good, but is hard to find sardines and herrings)
Alaskan Cod–Need to find info on this. This is more plentiful and we will be doing more of it.
Lingcod is another of my favorites, and it's also local to the Bay Area. In spite of their fearsome appearance, lingcod have a mild, sweet flavor and flaky texture that's great fried, braised, or poached. It's great for fish and chips, too. Though raw lingcod is an unusual blue-green color, assure customers that the fish turns white when it cooks, becoming indistinguishable from any other white fish.
Monkfish might win for ugliest fish, but tell customers that it's known as "poor man's lobster", and has a delicious, sweet taste that's easy to love. It takes well to almost any preparation, but a big plus is its sturdiness on the grill. This unusual fish doesn't flake as it cooks, so you don't have to worry about it falling apart. Try suggesting monkfish to customers who want to try something new from local waters.
2. Share Information. Lots of people talk about sustainable fish in the Bay Area, but what does it really mean? Defining terms and talking about fish success stories with customers lets them know you take the subject seriously and aren't just throwing out trendy buzzwords.
Some species like albacore tuna, swordfish, and rockfish have made remarkable recoveries from being overfished. Their stories are great sales and education tools. How about printing up info sheets about these fish? How fish is caught (as well as how much is caught) is part of what makes it sustainable, too. Why not post a sign next to each sustainably harvested fish that lets customers know how it was caught? Information sheets explaining how purse seiners, pole and line, and trolling techniques work is part of consumer education in sustainable seafood, too, and will empower customers to buy more confidently.
3. Highlight Certification. Sustainable? Says who? It's not enough to say your seafood is sustainable. Third-party certification is key for holding fishermen accountable and enforcing standards for the seafood on the market. The seal of approval from organizations like Seafood Watch, the Marine Stewardship Council, and the National Oceanic and Atmospheric Administration's Fish Watch program are hard evidence that your wholesaler is truly interested in sustainability. Posting information about third-party certification and their standards gives customers a level of assurance that you take the sources of your fish seriously.
4. Recipe Contest. If you've got recipes cards or cooking tips to share with your customers by all means do so. But how about getting more creative? Encourage your customers to submit Bay Area seafood recipes via email by registering for your market newsletter. (You have a newsletter, don't you?) Let your customers vote for the best recipes and award the winner a few pounds of fish. Meanwhile, you've collected great, original seafood recipes to print every week in the newsletter, as well as customer contact information that lets you communicate upcoming store events and sales. Everybody wins.
5. Cooking Demos. Bones, scales, and fish heads. Cooking fresh fish can be daunting to some customers. Why not schedule a few in-store demos to celebrate National Seafood Month? As an added draw, ask a chef from a popular local restaurant to do the demos. These are a chance to bring extra attention to your seafood offerings and to further establish your store as a resource for customers. You might show customers how to make fish stock, how to fillet and skin a fish, how to safely shuck an oyster, or how to cook almost any fish and always come away with a tasty meal (pan-fried with lemon butter is simple and nearly failproof).
If you've got other ideas about how to make the most of National Seafood Month in the Bay Area, please let us know. In the meantime, Pucci Foods can supply you with incredibly fresh, sustainable, and often local seafood that is minimally handled and of the highest quality. Please get in touch.