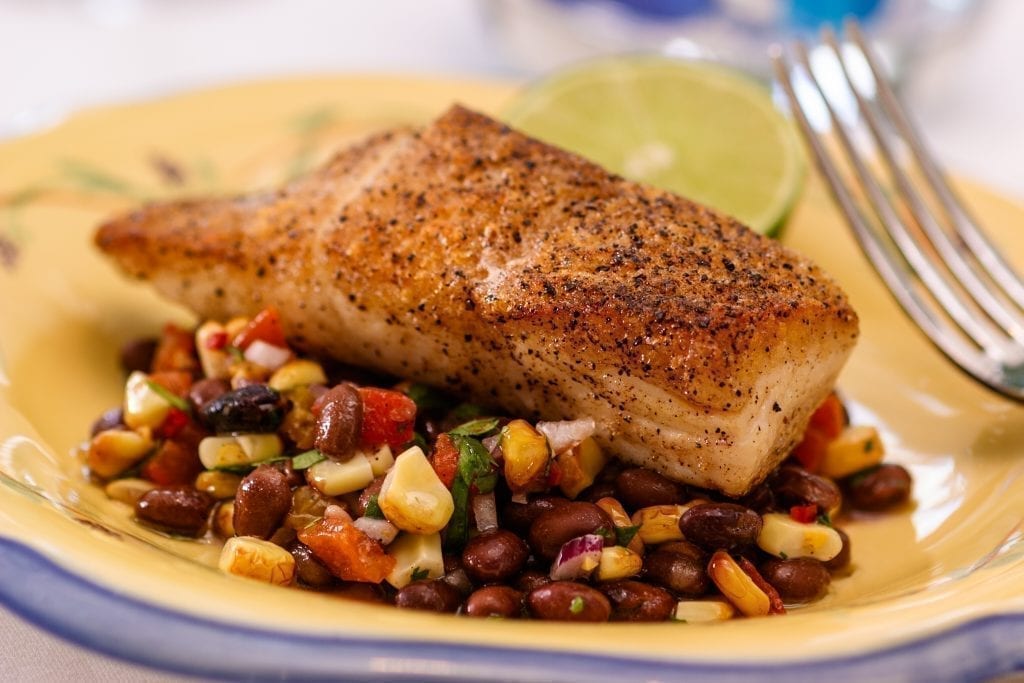 Bay Area Fish Markets know their customers. They're friendly, loyal, and they care a lot about the environment. So when the alarm sounded about many species of West Coast rockfish being on the verge of collapse in 2000, eco-conscious customers and markets listened, and cut way back. In the years that followed, fishermen, regulators, and conservationists worked together to reverse the disaster. Management programs were adopted, catch limits were followed, new fishing gear was designed, and fishing in sensitive areas was banned.
Today, popular varieties of rockfish, including Yellowtail and Perch, are some of the most sustainable options available at local seafood markets. Let your customers know that not only are rockfish ranked high on sustainability charts, but fresh shipments are pouring in, and these affordable fish are perfect for a variety of summer recipes. We've outlined a few of our favorites below.
Fish Tacos: Nothing says summer like tangy fish tacos. Because rockfish have medium-firm flesh and a mild flavor, many cooks prefer them when making this summer favorite. It's all about the textures. For customers who need a little coaching, considering having this five-star Food Network Kitchen recipe handy, either on a card for them to take home, or posted near your rockfish fillets.
Ingredients
Vegetable oil, for frying
1/4 red cabbage, thinly sliced (about 1 1/2 cups)
1/2 cup fresh cilantro, roughly chopped
Juice of 1 lime, plus wedges for serving
2 tablespoons honey or agave nectar
1/2 cup mayonnaise
Kosher salt
12 corn tortillas
3/4 cup all-purpose flour
1/2 teaspoon chili powder
Freshly ground pepper
1 1/4 pounds skinless fillets, cut into 2-by-1/2-inch pieces
1 Hass avocado
1/2 cup fresh salsa
Directions
Heat about 3 inches vegetable oil in a medium pot over medium-low heat until a deep-fry thermometer registers 375 degrees F. Meanwhile, toss the cabbage, cilantro, lime juice, honey and mayonnaise in a bowl. Season the slaw with salt.
Warm the tortillas in a skillet over medium-low heat or wrap in a damp cloth and microwave 25 seconds. Wrap in a towel to keep warm.
Mix the flour, chili powder, and salt and pepper to taste in a shallow bowl. Dredge the fish in the flour mixture, then fry in batches until golden and just cooked through, 2 to 3 minutes. Transfer with a slotted spoon to a paper-towel-lined plate to drain. Season with salt.
Halve, pit and slice the avocado. Fill the tortillas with the fish, avocado, slaw and salsa. Serve with lime wedges.
*Recipe courtesy Food Network Magazine
Grilled Rockfish: One of our favorite summer flavors is basil. Combined with garlic and the delicate flavor of grilled rockfish, you have a backyard barbeque hit. Here's an easy-to-follow recipe for grilled rockfish that will have folks coming back for more.
Ingredients
3 tb Vegetable oil
1 tb Lemon juice
4 tb Butter
4 clove Garlic
2 tb Basil, fresh; chopped
1 dash Cayenne pepper
Directions
Marinate the fish in the oil and lemon juice for at least 30 minutes before grilling. Grill for 10 to 15 min, turning only once. Time depends on the thickness of your fish. Heat the butter and stew the garlic for 3 min stirring constantly to make sure it doesnt brown. Add the basil, cayenne pepper and remove from the heat. Either pour the garlic butter over the fish or serve it in a gravy boat on the side.
*Recipe courtesy Big Oven
Steamed Rockfish: Many Asian recipes feature rockfish that are steamed whole. This recipe from Food Republic features the bold flavors of ginger and green onion along with the sweet, mild flavor of a flaky, tender, steamed rockfish.
Ingredients
1 2-3 pound rockfish, whole with scales, gills and intestines removed
1 1/2 teaspoons salt
1/2 teaspoon white pepper
1/2 teaspoon sugar
4 Chinese black mushrooms, soaked in warm water for 20 minutes
1 1/2 teaspoons garlic, minced
3 tablespoons ginger, finely minced
1 tablespoon Shao Shing rice cooking wine
2 tablespoons thin soy sauce
1 tablespoon sesame oil
1 tablespoon cooking oil
2 green onions, finely shredded
cilantro, to garnish
Directions
Rinse the fish with cold water and pat dry inside and out. Season the fish with salt, pepper and sugar inside and out.
Place the fish in a large, oval, heatproof dish. Evenly sprinkle mushrooms, garlic and ginger.
Combine 1 to 2 tablespoons of the reserved mushroom soaking water with rice wine and thin soy sauce. Drizzle over the fish.
Steam at high for about 10 minutes or until cooked through. The fish should flake off the bone.
Combine oils in a small saucepan and heat to high for about 2 minutes or until almost smoking. Drizzle hot oil over the fish, it will crackle.
Top the fish with shredded green onion and cilantro.
*Recipe courtesy Food Republic