Growing up, I was a picky child I'm sure my parents dreaded feeding. They tried to raise my siblings and me on as much seafood as possible, focusing on the healthiest fish to eat. But being the young kids we were, it was mission impossible–we hated the smell of fish. Still, my parents would incorporate seafood into our meals at least once a week.  
Now I'm in my mid 20s, and I eat all kinds of seafood, including salmon, tuna, and oysters. But it's not just because of how my palette has developed, or even how easy seafood is to cook, it's also because of how great seafood is for my health. For instance, eating one dinner portion of salmon gives me 1.8g of EPA & DHA omega 3s. Omega 3s have been tied to a wealth of benefits, including heart health, cognitive performance, and even mental health boosts. And it's not just salmon that has these great nutrients, other kinds of seafood like mackerel and trout also contain vital nutrients. Here are a few of the healthiest fish to include in your diet. 
#1 Healthiest Fish to Eat – Salmon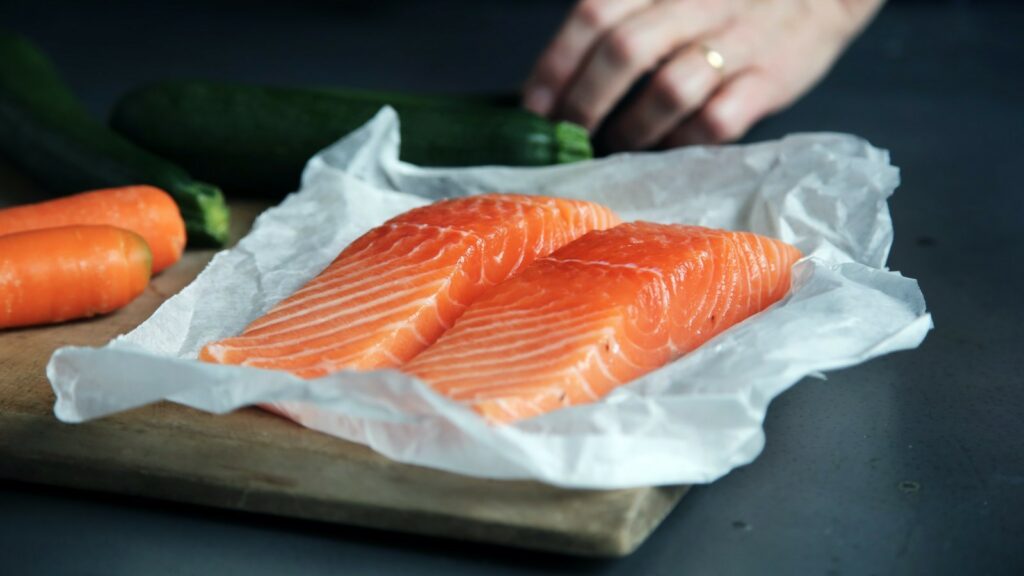 Wild caught salmon is one of the healthiest fish you can eat. However, farmed salmon is also a great option. There are many myths tied to farmed salmon, but when farmed according to the Best Aquaculture Practices, farmed salmon is just as safe, healthy, and nutritious as wild caught salmon. You can read more about fish farming here.  
We've mentioned salmon's omega 3 content, but it's also packed with potassium, which boosts cardiovascular health, reduces artery inflammation, lowers cholesterol levels, and maintains blood pressure levels.  This great protein also provides nutrients like vitamins B3 (helpful for lowering cholesterol levels), B6 (improvement on brain health), and B12 (functionality on brain and nervous system). Salmon can be prepared deliciously with just a few simple ingredients. For example, check out this Garlic Salmon with Lemon Butter recipe! 
#2 – Mackerel
Not only is mackerel healthy for you, it also repopulates quickly, allowing it to maintain its stock as it's caught. In addition, mackerel fishing gear is very efficient and non-invasive. This protein-packed fish is heavily loaded with omega 3s–just three ounces of mackerel contains 20 grams! It also contains vitamin B, selenium, and niacin. On top of that, mackerel is very easy to prepare: try this simple grilled mackerel recipe! 
#3 – Sardines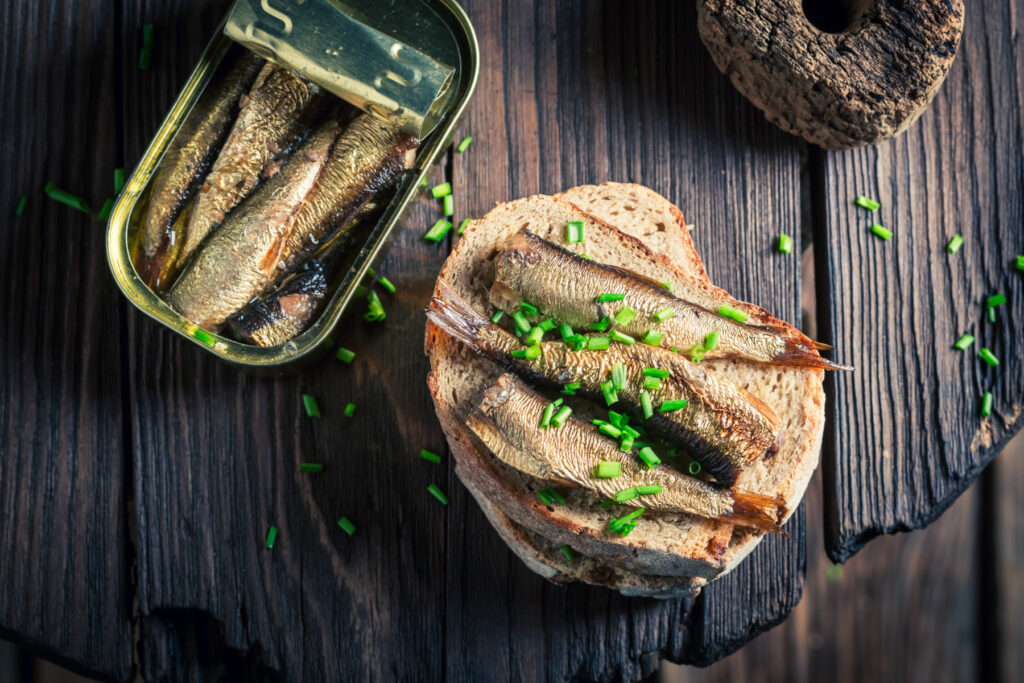 This shiny, inexpensive fish bursts with nearly 1,200mg of omega 3 fatty acids per serving. Sardines are also naturally high in vitamin D and calcium. In fact, one serving of sardines contains 33% of your daily value of calcium. And for a 100g serving of fresh cooked sardines, you also get 496mg of potassium, 63mg of calcium, 5ug of vitamin D, 12mg of niacin, and 10,6ug of vitamin B-12.
Sardines may be intimidating to cook due to their size, but removing the head and following this Mediterranean Garlic & Herb Crusted recipe will get you enjoying this beautiful oily fish in no time.
#4 – Rainbow Trout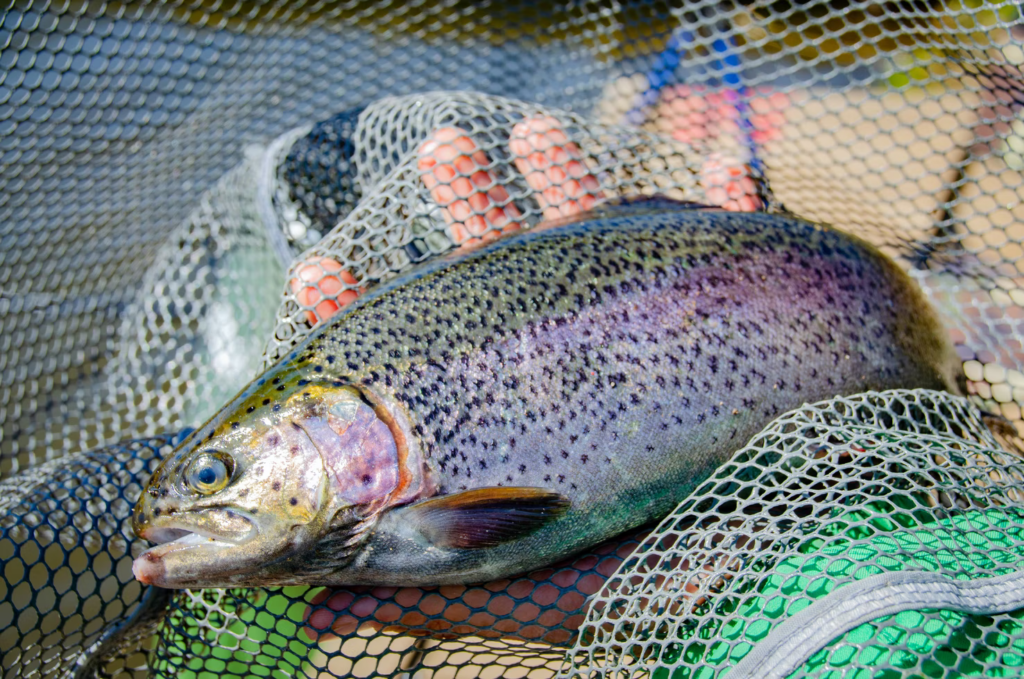 Also known as steelhead trout, rainbow trout is a great source of potassium, selenium, vitamin B6 as well as omega 3. A 3 oz. serving gives you 20g of protein in just 143 calories––that's 40% of the daily value of protein needed for a 2,000-calorie regime.
Other nutrients include vitamins B3, B5, E, and potassium. Rainbow trout is also a great option for pregnant women and small children due to its negligible mercury content. (In fact, all the fish we listed in this article have very low mercury content!) Not sure how to cook trout? Follow this recipe featuring tomatoes, garlic, and thyme!
#5 – Herring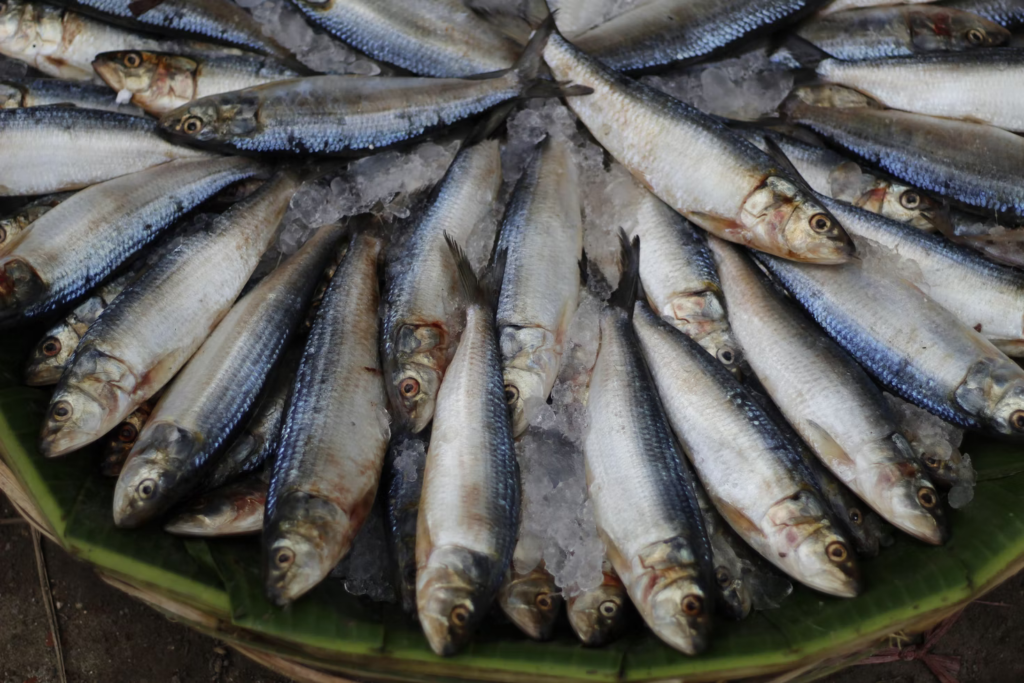 Similar to sardines, herring has high levels of omega 3. This healthy fish is also an excellent source of vitamin D and selenium. A 100g serving gives you 15.2 grams of protein. This study showed that herring had a positive impact on cardiovascular diseases and lowered risk of depression and cancer.
This small but mighty fish can be found pickled, canned, or even grilled. For example, this grilled herring recipe features peas, mint, and Meyer lemons.
These Healty Fish are Waiting For You!
Seafood has amazing qualities that can be accessed with just a small serving. It's a great way to get high quality protein without the heaviness of eating meat. It's also very sustainable: seafood is carbon light and requires very little land or blue water compared to land livestock. The healthiest fishes to eat are waiting at your local market. Go and give them a try today!