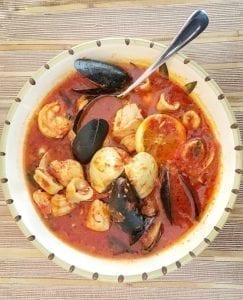 There's no better season to feature fresh fish soups or seafood stews than California's rainy, chilly winters. Customers are looking for warm comfort foods, and soups satisfy not only the palate and the stomach, but combat those inevitable colds. Highlight fresh, sustainable seafood from Pucci Foods designed to shine in the stew pot. Salmon, crab, oysters, cod, shrimp and much more can make a fantastic meal when prepared in a delicious soup, and paired with a hearty slice of bread. These fish stews also provide a welcome break from the ubiquitous clam chowder.
One particular winter favorite, especially among francofiles, is bouillabaisse. The soup has grown so popular beyond France that seafood lovers around the world celebrate National Bouillabaisse Day every December 14th. The tradition comes from the port city of Marseille, where legend has it, fishermen invented it by throwing everything that hadn't sold that morning into the soup pot, along with a few select vegetables and spices. Today, it still packs in several varieties of fish for a seafood extravaganza in a bowl. Must-haves to every bouillabaisse recipe include firm fish for fillets, like sea bass, haddock, halibut or cod, and mussels, squid and crab. Small whole fish are often added as well. The soup is also known for its orange color and zesty flavor, thanks to an unforgettable blend of saffron, orange zest and fennel in the broth. Take a stab at preparing the stew and offering it as part of your prepared food bar, or conveniently packaged for folks to take home to the family. Or, simply post the recipe below near your fish counter and share the tradition with customers looking for ideas, or ways to stay heart healthy and on that new diet.
Because bouillabaisse tends to be time intensive, and may be too adventurous for customers attracted to simplicity, we're also sharing recipes for quick Oyster Stew and Salmon Moqueca. You can find the freshest fish for all these winter ideas in the Pucci Foods Product Catalog.
Bouillabaisse
Ingredients:
3 pounds of at least 3 different kinds of fish fillets
1 pound mussels or clams
1 pound squid or crab
1/4 cup olive oil
1 cup thinly sliced onions
2 leeks, thinly sliced
1/4 fennel bulb, thinly sliced, or 1 teaspoon of fennel seeds
2 cloves crushed garlic
3 large tomatoes, chopped
1 bay leaf
3 sprigs fresh thyme
1/2 teaspoon saffron threads
2 teaspoons salt
One long, wide strip of orange zest
8 ounces clam juice or fish stock
1/4 teaspoon freshly ground black pepper
Sliced rustic French bread, plain or toasted
Directions for Sauce Rouille:
1 Tbsp hot fish stock or clam broth
2 cloves peeled garlic
1 small red hot pepper
1/2 teaspoon salt
1/4 cup soft white bread, pulled into bits
1/2 cup olive oil
Put hot fish stock or clam broth into a blender. Add garlic and red hot pepper, salt and bread. Blend until very smooth. With the blender still running, add olive oil slowly and stop the blending as soon as the oil disappears.
Directions:
Cook the onions, leeks, fennel:Heat 1/4 cup of olive oil in a large (6-8 quart) pot on medium high heat. When the oil is hot, add the onions, leeks, and fennel. Stir to coat the vegetables with the olive oil. Cook on medium heat until softened but not browned, about 10-15 minutes.
Add garlic, tomatoes, bay leaf, thyme saffron, salt, orange zest:Add the crushed garlic, chopped tomatoes, bay leaf, thyme, saffron, salt, and orange zest. Cook until the tomatoes are soft and broken down, about 10 more minutes.
Add fish fillets, cover with water and stock, boil:Cut fish fillets into 2-inch pieces. Bring 2 cups of water to a boil. Lay the fish pieces over the vegetable mixture and pour over with 2 cups of boiling water. Add clam juice or fish stock. Bring everything to a boil, and cook, uncovered, for about 5 minutes.
Add shellfish:Add the mussels, squid, and/or crab, pushing aside the fish so that the shellfish is now covered in liquid, and boil for 10 minutes more, uncovered. Add freshly ground black pepper, and more salt to taste. Remove the bay leaves, sprigs of thyme, and orange zest from the broth.
Place slice of bread in bowl, top with rouille, then broth, then fish and shellfish: To serve, remove the fish and shellfish to a platter to keep warm. Place a thick slice of crusty French bread (plain or lightly toasted) in each bowl and put a dollop of the rouille sauce on top of the bread.
Ladle the soup broth over the bread, and then portion out fish and shellfish onto the bowls.
(Adapted from https://www.simplyrecipes.com/recipes/bouillabaisse/)
Simple, Quick Oyster Stew
(If you're not in the mood for oysters, simply replace them with a white fish and use fish stock instead of oyster juice.)
Ingredients:
½ cup butter
1 cup minced celery
3 tablespoons minced shallots
1 quart half and half cream
2 (12 ounce) containers fresh, shucked oysters, in juice
Salt, pepper and cayenne to taste.
Directions:
Melt the butter in a large skillet over medium heat, and cook the celery and shallots until shallots are tender.
Pour half-and-half into a large pot over medium-high heat. Mix in the butter, celery, and shallot mixture. Stir continuously. When the mixture is almost boiling, pour the oysters and their liquid into the pot. Season with salt, pepper, and cayenne pepper. Stir until the oysters curl at the ends. Turn off the heat and serve with toasted bread.
(Adapted from https://allrecipes.com/recipe/12862/oyster-stew/)
Salmon Moqueca (Brazilian Salmon Stew)
Fish and Marinade Ingredients:
1 1/2pounds salmon fillets
1 28-ounce can of peeled whole tomatoes, undrained
1 onion, roughly chopped
1 cup cilantro, chopped
2 garlic cloves, cut in half
1 Serrano chile pepper, stemmed and cut in half (use the seeds, too, if you want your stew to be spicy)
¼ cup lime juice
1 tablespoon olive oil
1 teaspoon salt
Directions:
Place fish in a shallow bowl.
Combine the tomatoes, onion, cilantro, garlic, chile pepper, lime juice, oil and salt in a food processor or blender.
Process until smooth and pour over fish. Allow to marinate for 30 minutes to 1 hour.
Stew Ingredients:
2 tablespoons olive oil
1 large sweet potato, peeled and diced
1 zucchini, chopped
1 green pepper, chopped
1 red pepper, chopped
½ cup water (or fish stock)
¾ cup whole coconut milk
½ cup minced green onion for garnish
½ cup chopped cilantro, for garnish
Directions:
Heat olive oil in a large skillet over medium heat.
Add diced sweet potato and cook for 10 to 15 minutes, adding a little water if needed so it doesn't burn, until softened.
Add zucchini, green and red pepper and continue to cook until tender, about 5 to 7 minutes, again adding water to the pan, if needed.
Add water or fish stock and stir in coconut milk. Bring to a boil, reduce heat, and simmer 2 to 3 minutes.
Add fish and marinade and simmer for 10 to 15 minutes, or until fish flakes easily with a fork. Just before serving, stir in green onion and cilantro. Serve alone or over rice.
(Adapted from https://food52.com/recipes/4574-salmon-moqueca)