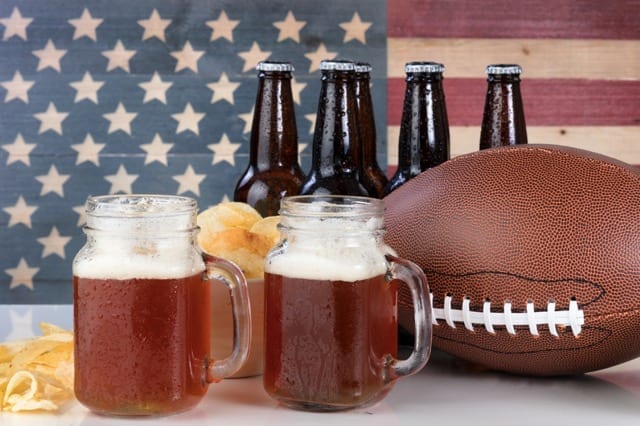 Anyone who has ever hosted a Super Bowl party will tell you the food is just as important as the big game. Sure, food may not be the immediate focus, but keeping the legions happily fed as they watch the big game may be the most underrated task in history.
Enter the unlikely hero: fresh fish from your market. Let your Bay Area customers know that you have them covered when it comes to seafood ideas for party platters, appetizers, and even entrees that will blow typical Super Bowl eats out of the water.
Who would reach for fries when you have crab cakes on the table? Who in their right mind would pick greasy wings or potato chips over grilled Mahi-Mahi Tuna skewers? Not only does fresh seafood score a touchdown when it comes to taste, but it wins big points with those trying to curb calories in the New Year. Pizza or oysters on the half shell? Pigs in a blanket or Sole baked to perfection? The healthier choice is crystal clear.
Speaking of choice, there's a lot that's in season this time of year. Just head to Pucci Foods to see the options, which include Cod, Rockfish, Clams, King Crab, Dungeness Crab, Mahi-Mahi, Salmon, Sardines, Oysters and Shrimp.
Below are some recipe ideas to share with your customers in the week leading up to Super Bowl LII. Either post the ideas near or on your fish counter, so customers can snap a picture with their phone, or print up some recipe cards for customers to take home with them. Consider offering party platters for customers looking to avoid the kitchen altogether in favor of the living room.
Grilled Tuna Skewers
Ingredients:
-1 ½ pounds tuna, cut into cubes
-1/4 cup olive oil, plus 2 tablespoons oil
-3 tablespoons fresh cilantro, chopped
-3 tablespoons fresh lime juice
-coarse salt and freshly ground pepper
Directions:
IN

Heat a grill pan over medium heat. Toss tuna with 1 tablespoon oil. Thread tuna onto 4 skewers.

Combine cilantro, lime juice, and 1/4 cup oil. Season with salt and pepper. Set aside 3 tablespoons.

Brush pan with 1 tablespoon oil. Grill the tuna, turning skewers and brushing the meat occasionally with lime sauce. For rare meat, cook about 2 minutes per side. Transfer skewers to a serving plate, and brush with remaining lime sauce.
(adapted from https://www.marthastewart.com/314076/grilled-tuna-skewers)
Crab Cakes
Ingredients:
2 eggs

2-1/2 tablespoons mayonnaise

1-1/2 teaspoons Dijon mustard

1 teaspoon Worcestershire sauce

1 teaspoon Old Bay seasoning

1/4 teaspoon salt

1/4 cup finely diced celery, (one stalk)

2 tablespoons finely chopped fresh parsley

1 pound lump crab meat (check for any hard or sharp cartilage first)

1/2 cup Panko bread crumbs

Cooking oil
Directions:
1. Line a baking sheet with tin foil. Mix the eggs, mayo, mustard, Worcestershire, Old Bay, salt, celerty and parsley well. Add the crab meat and bread crumbs. Gently fold until combined. Try not to shred the crab meat. Shape into 6 crab cakes and place on baking sheet. Cover and cool in the fridge for at least an hour.
2. Preheat a nonstick pan and coat with oil. Cook the cakes until golden brown on each side. This should take less than five minutes per side. Serve immediately with tartar sauce, lemon wedges or cocktail sauce.
(This recipe adapted from https://www.onceuponachef.com/recipes/maryland-crab-cakes-with-quick-tartar-sauce.html )
Easy Sole Meuniere
Ingredients:
1/2 cup all-purpose flour

Salt and freshly ground black pepper

4 fresh sole fillets, 3 to 4 ounces each

6 tablespoons unsalted butter

1 teaspoon grated lemon zest

6 tablespoons freshly squeezed lemon juice

1 tablespoon minced fresh parsley
Directions:
1. Preheat the oven to 200 degrees.
2. Combine the flour, 2 teaspoons salt, and 1 teaspoon pepper in a large, shallow plate. Pat the fillets dry with paper towels and sprinkle one side with salt.
3. Heat 3 tablespoons of butter in a large saute pan over medium heat until it starts to brown. Dredge 2 sole fillets in the seasoned flour on both sides and place them in the hot butter. Lower the heat to medium-low and cook for 2 minutes. Turn carefully and cook for 2 minutes on the other side. While the second side cooks, add 1/2 teaspoon of lemon zest and 3 tablespoons of lemon juice to the pan. Carefully put the fish filets on ovenproof plates and pour the sauce over them. Keep the cooked fillets warm in the oven while you repeat the process with the remaining fillets. When they're done, sprinkle with the parsley, salt, and pepper and serve.
(adapted from https://www.foodnetwork.com/recipes/ina-garten/easy-sole-meuniere-recipe-1945717)