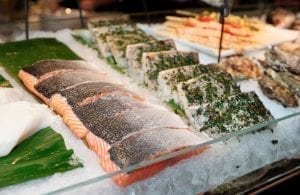 December tends to fly by in a whirl of red and green—filled with holiday parties, shopping, decorating, and, of course, good times with family and friends. It all creates the demand for simplicity and speed when it comes to cooking meals or bringing an appetizer to that annual get-together. Make things easy on your seafood market customers by offering preparation shortcuts. And be sure to remind them about these conveniences with signs, displays, and social media posts!
For instance, make sure customers looking for fresh crab can buy that crab already cracked and washed. Offer boneless skinless fillets of in-season favorites like halibut, salmon, trout and tuna. Think about selling fillets already marinated and seasoned, ready to throw in the oven or the pan. And then go the extra mile by offering prepared fish dishes, from smoked fillets to crab cakes. Customers will thank you for keeping their holidays on track and stress free.
Another way to engage customers and make the most of December's holiday spirit is to highlight a local charity or cause. Bay Area customers are informed, conscientious, and generous folks who choose their seafood based on ethics and sustainability. That's why they shop at seafood markets that take pride in the Pucci Foods principles. These same folks share the desire to do more during the giving season. Below are a few ideas of charities worth partnering with, or donating a portion of your holiday sales to.
North Bay Fire Relief Fund: This fall's raging wildfires across the North Bay killed dozens of people and destroyed thousands of homes. Victims are not only dealing with the loss of everything they owned, but struggling with deep emotional wounds. This fund assists fire victims and relief efforts. 100% of donations go directly to those affected.
Other North Bay Nonprofits: With all the giving focus on fire victims, other North Bay nonprofits are struggling. The Sonoma Index-Tribune recently ran a story about several worthy and essential services forced to cancel fundraising events because of donation fatigue. One of them, the PDI Surgery Center, helps low income kids suffering from severe tooth decay.
Glide Memorial Church: GLIDE is perhaps best known for its homeless services. It is the only program in San Francisco to provide three nutritious meals a day year-round to the city's poor, homeless and hungry. They also have programs for youth, free legal advice, and programs to help women overcome violence and men un-learn violence. Their mission is "to create a radically inclusive, just and loving community mobilized to alleviate suffering and break the cycles of poverty and marginalization," very Bay Area goals indeed.
ASPCA: It's not just people who need a helping hand sometimes, it's animals. The American Society for the Prevention of Cruelty to Animals is a longtime leader in getting unwanted pets into forever homes, and offering affordable vet care. This organization also saves dogs from fighting rings and puppy mills, and rehabilitates animal victims of cruelty. There are several SPCA chapters in the Bay Area.