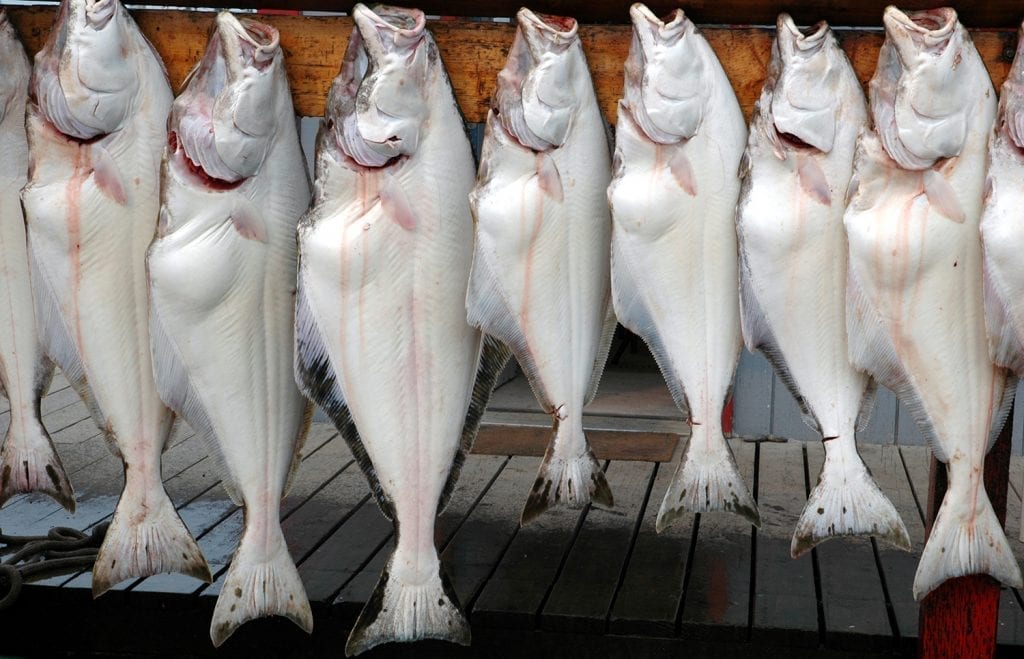 Fresh Alaskan halibut is pouring into San Francisco Bay Area fish markets, but it's got some competition for attention. Favorites like oysters, salmon and tuna are still readily-available, and many people are eagerly awaiting the start of crab season. If you feel like halibut might not be on your customers' radar, do them a favor by featuring this delicious and nutritious choice. Not only is it packed full of heart-healthy protein and vitamins, but Alaskan halibut from Pucci Foods is guilt-free when it comes to environmental impact.
Health Benefits
Just one serving of halibut has 34 percent of the daily recommended amount for men, and 42 percent of the recommended amount for women. The protein in halibut is also a complete, or whole protein, which means it has all nine amino acids essential to maintaining your health. When it comes to fats, halibut is very low in saturated fat and high in "omega-3 fatty acids." That's the healthy fish oil linked to a range of benefits, including heart disease prevention, better brain function, inflammation prevention, and lower blood pressure.
Sustainability
Integrity and sustainability are especially important to Bay Area fish markets and their eco-savvy customers. Rest assured that Pacific halibut is a green, healthy choice, unlike Atlantic halibut, which has unsafe levels of mercury and other chemicals. The majority of halibut caught in the United States comes from Alaska, where there are many responsibly managed fisheries and farms. Pucci Foods halibut comes from a certified sustainable and safe source. It's just one of the reasons why Pucci is a proud member of the Marine Stewardship Council (MSC) sustainable seafood certification program. The goal for customers and consumers alike to share a passion for restoring and protecting marine life for many generations to come. To order Pucci Foods halibut or other seafood for your market, visit our website.
Cooking Versatility
Halibut has a mild, sweet, light flavor on its own, but many cooks choose it because it takes so well to a variety of flavors and spices from a variety of cultures. It soaks up and compliments distinct flavors but keeps its firm, flaky texture. If you're in the habit of offering recipe ideas for fresh fish you feature, consider these tasty, healthy options.
Herbed, Broiled Halibut
Ingredients:
2 boneless, skinless halibut fillets
1 lemon
A tablespoon or two of olive oil
1/2 teaspoon salt
2 cloves fresh crushed garlic
1 tablespoon dill weed
Directions:
Preheat your broiler
Brush a baking sheet or broiling pan with olive oil
Rinse the fish and pat dry with a paper towel
Put your fillets in the pan and brush with olive oil
Spread the garlic on the fillets, with the help of a brush to even out
Squeeze lemon juice onto the fillets
Sprinkle the salt and dill on the fillets
Broil for 15 to 20 minutes, or until the fillet is opaque and flaky
Sautéed Halibut with Balsamic Tomatoes
Ingredients:
About 1 1/2 tablespoons olive oil, divided
4 boneless, skinless halibut fillets
1/2 teaspoon salt, divided
1/4 teaspoon black pepper
2 cups grape or cherry tomatoes
3 cloves minced garlic
2 tablespoons balsamic vinegar
2 tablespoons fresh basil, chopped
2 tablespoons feta cheese
Directions:
Sauté the fish in olive oil in a large, nonstick pan. Sprinkle salt and pepper on top. On medium to high heat you should only need five minutes per side. You'll know it's done when the meat flakes easily with a fork.
Put the fillets on plates. Add a teaspoon or two of olive oil, the tomatoes, and the garlic to your pan. Sauté for three minutes. Add the vinegar and cook a minute or two longer, until the tomatoes start to burst. Toss in the fresh basil and a dash of salt. Stir. Dish the balsamic tomato sauce onto your fillets, garnish with feta, and serve.