Pucci Foods has been synonymous with fresh, high-quality seafood in California for over a century. Our commitment to excellence spans generations, bringing the best from the ocean to your business. But have you ever wondered how we manage to maintain this exceptional quality? Join us on a journey through our supply chain to explore how we turn our Pucci Promise into reality.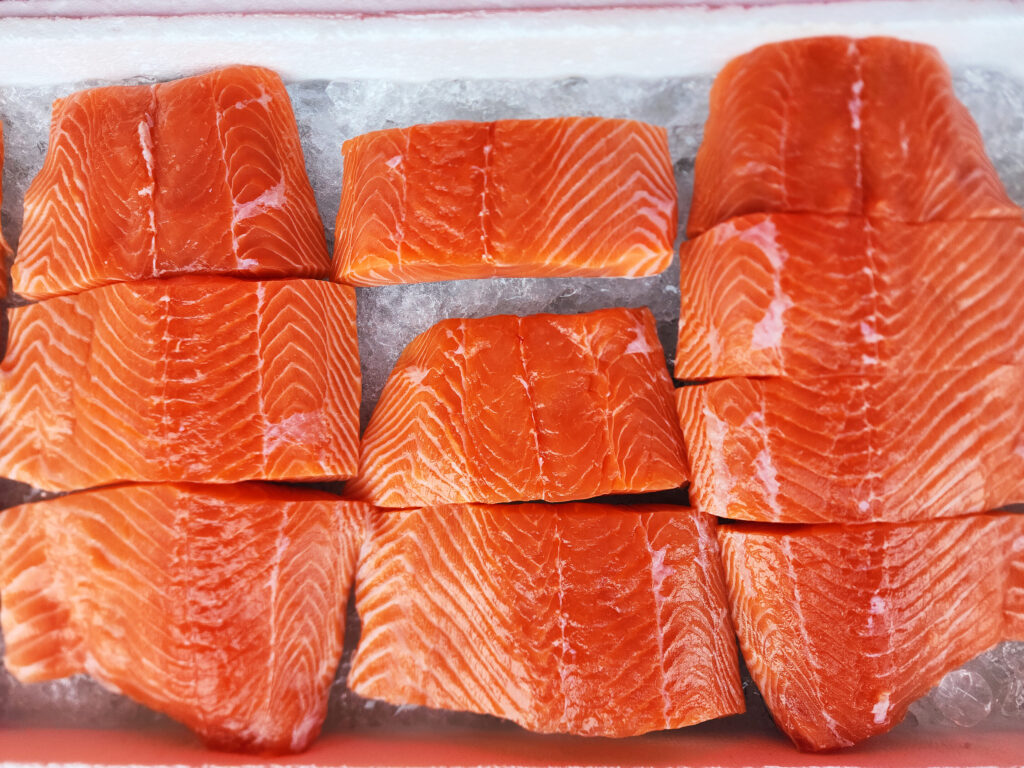 Also, feel free to explore our website if you are looking for salmon wholesale or other fresh seafood products.
Now, let's explore how we operate to offer the best wholesale salmon.
Quality – Our Top Priority
Quality is not just a term for us – it is a promise we uphold to all our customers. We adhere to the principle that we won't send anything that we wouldn't accept ourselves. Our stringent selection process ensures that only the best seafood reaches your establishment.
Take our Atlantic Salmon, for instance. This best-selling fish comes directly from certified farms of top-rated ASC (Aquaculture Stewardship Council) and BAP (Best Aquaculture Practices). The strict standards set by these organizations guarantee that every fish meets the high-quality, healthy, and environmentally friendly criteria we vouch for.
Sustainability – Ensuring A Bright Future For Seafood
At Pucci Foods, sustainability is more than a buzzword. It is a commitment that influences every decision we make, from the suppliers we choose to the way we run our operations. We partner with sustainable producers to secure the seafood industry's future and our oceans' health.
For instance, with our Pacific Rockfish, one of the West Coast's most sustainable and versatile fish, we support practices that maintain its healthy ocean ecosystems and thriving population. We also source them from responsible fisheries. Our Dungeness Crabs also come fresh from local fishermen who adhere to responsible harvesting methods, supporting the local economy and the ocean's balance.
Comprehensive Range Of Seafood – Catering To Your Needs
We pride ourselves on offering a wide variety of seafood products tailored to your needs. Beyond our popular Atlantic Salmon, Dungeness Crab, Pacific Oysters, and Pacific Rockfish, we provide a range of other seafood items.
Our catalog is designed to cater to your needs. While we have listed popular items, it is far from comprehensive. We can offer any of the products you see – and more – in various states, cuts, or weights. We can deliver whether you need fresh or frozen seafood, specific cuts, or particular weights.
If you are looking for a wholesale salmon distributor, feel free to contact us.
Service – Going The Distance For You
Our service promise is simple: we go the distance to make sure you have the best seafood solution when you need it most. We understand that in your business, timing is crucial. That's why we guarantee our supply chain operates smoothly, delivering the freshest seafood right when you need it.
Our commitment to service extends to every aspect of our relationship with you. If a mistake occurs, we fix it promptly because we know your business reputation, like ours, is built on consistency and trust.
Choose Pucci Foods
The Pucci Foods supply chain is more than simply delivering seafood. It is about fulfilling our promise of quality, sustainability, and service. We offer a comprehensive range of seafood products tailored to your needs. We bring the freshest, responsibly sourced seafood from the ocean to your business.
Pucci Foods upholds its 100-year legacy and we are working so that this legacy continues for generations. We do not just sell seafood; we create and connect you to the ocean.
Explore our website if you are looking for salmon wholesale or other fresh seafood products!