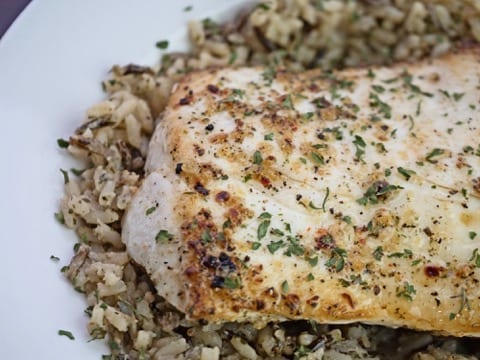 Mother's Day is one of those high-pressure holidays that you simply can't ignore. Moms do so very much and this is the day we all go the extra mile to show our appreciation. Play up Mother's Day at your Bay Area fish market this year by offering gourmet options to either take home already prepared, or for customers to take home to do the cooking themselves. While a night out may say "I love you," a night in, that took time and effort and thought, often says it a little louder. Give your customers a head start on that special meal by offering fillets already in marinade, packets of herbs and spices ready to add to the pan, or recipe cards with easy, gourmet fish recipes.
(We've included a few ideas below.)
While you're going gourmet, you might want to get a little personal too. For instance, the week of Mother's Day you could offer moms a 10% discount at the seafood counter. The catch is they have to prove they're a mother. Have them show whoever is working the fish counter a picture of one of their children. If there's one thing mothers (and grandmothers) love to do, it's show off pictures of their kids, and thanks to technology, those pictures are a smartphone swipe away at all times.
Another tip to keep in mind this Mother's Day is that there are often several moms customers are thinking about on Mother's Day—their own mother, mothers-in-law, wives, grandmothers, expecting mothers… Encourage customers to go big—crab cake brunch for the mother-in-law and then a home-cooked, romantic dinner for the hubby, filling the kitchen with the unmistakable aroma of her favorite delicate, buttery, succulent fish sizzling as it cooks.
Last but not least, moms spend a lot of time worrying about the future. Put those worries to rest by passing down the Pucci Foods promise. We worry about the future too, which is why we only supply safe, sustainable seafood. Here in the Bay Area, ethically sourced and sustainable foods are an expectation. Be proud of your commitment, and make sure customers know you're devoted to making sure the variety of fresh seafood you offer now can be enjoyed by generations to come.
Grilled Halibut with Herb Pistou and Walnut Butter
Ingredients:
4 skinless halibut fillets (about 5 ounces each)

Kosher salt

2 tablespoons sugar

2 walnut halves, finely chopped

4 tablespoons unsalted butter, softened

3 juniper berries, finely chopped (optional)

1/4 teaspoon finely grated orange zest

1 1/2 teaspoons minced serrano ham

1 teaspoon fresh lime juice

Pinch of fennel pollen

16 garlic cloves

1/4 cup plus 2 tablespoons extra-virgin olive oil, plus more for grilling

1/4 cup plus 1 tablespoon grapeseed oil

1 cup watercress, leaves and tender sprigs only

1/2 cup baby arugula

1/4 cup flat-leaf parsley leaves

1/4 cup basil leaves

2 tablespoons chopped dill

2 tablespoons freshly grated Parmigiano-Reggiano cheese

1 teaspoon finely grated lemon zest

1 1/2 teaspoons fresh lemon juice

Freshly ground black pepper
DIRECTIONS:
Step 1
Set the fish on a platter. In a small bowl, combine 1/4 cup of salt with the sugar and pat it over both sides of the fillets. Let stand for 30 minutes. Rinse the fish and pat dry.
Step 2
Meanwhile, in a small skillet, toast the walnuts over moderate heat for about 3 minutes, until golden. Transfer to a small bowl and let cool. Stir in the butter, juniper berries, orange zest, ham, lime juice and fennel pollen. Scrape the nut butter onto a sheet of wax paper and spread to a 3-by-6-inch rectangle; wrap in the paper. Refrigerate until firm.
Step 3
Put the garlic in a small saucepan, add cold water to cover and bring to a boil. Drain. Repeat this process 3 times, reserving 2 tablespoons of the final water. Transfer the garlic and reserved water to a blender. Add 2 tablespoons of the olive oil and 1 tablespoon of the grapeseed oil and puree until smooth. Scrape the garlic puree into a bowl.
Step 4
Add the watercress, arugula, parsley, basil and dill to the blender and pulse until finely chopped. With the machine on, pour in the remaining 1/4 cup each of olive oil and grapeseed oil and puree until smooth. Add the Parmigiano, lemon zest, lemon juice and the garlic puree and pulse to combine. Season the pistouwith salt and pepper and transfer to a bowl.
Step 5
Light a grill or preheat a grill pan and brush it with olive oil. Brush the fish with olive oil and grill over moderately high heat, turning once, until cooked through and lightly charred, 6 minutes. Spoon the pistou onto 4 plates and top with the fish. Unwrap the butter and cut it into 4 rectangles. Place the butter on the fish and serve.
(From foodandwine.com)
ROASTED MACKEREL WITH GARLIC AND PAPRIKA
INGREDIENTS:
2 garlic cloves, peeled

2 tsp paprika

1 tsp sea salt, plus more to taste

Olive oil

8 mackerel fillets, skin on

1 pound new potatoes

2-3 scallions, trimmed and thinly sliced
For the vinaigrette
Pinch of saffron

1 Tbsp white wine vinegar

1 tsp Dijon mustard

1/4 cup extra virgin olive oil

Sea salt and freshly ground black pepper
directions:
1. Preheat the oven to 400°F.

2. Put the garlic and paprika into a mortar, add the salt, and pound to a smooth paste. Add a few drops of olive oil, then rub the flesh side of the mackerel fillets with the paste and set aside.

3. Make the vinaigrette. Put all the ingredients into a small bowl and whisk together with a fork. Season with salt and pepper to taste.

4. Line a baking sheet with parchment paper and brush lightly with olive oil. Lay the mackerel fillets skin side up on the paper and season the skin with sea salt. Roast for 8-10 minutes until the skin is crisp and the fish is cooked through. Remove from the oven and leave to rest.

5. Meanwhile, boil the potatoes in a large pan of salted water for about 15 minutes until tender, then drain. Return to the pan with 1 tablespoon of olive oil. Crush lightly with the back of a fork, then add the scallions and stir to combine. Season with salt, then add a couple of tablespoons of the vinaigrette.

6. Serve the crushed potatoes topped with the mackerel and a drizzle of the remaining

vinaigrette.
(Adapted from Gordon Ramsay's Home Cooking)