Gourmet chefs across the country, and across the Bay Area, are placing monkfish prominently on the menu. But you don't need to go out to enjoy this delicious, often-overlooked fish. Stay at home and serve it up to your family for a win in health, taste, and gourmet quality with a home-cooked price.
Cooks Can't Fail with Monkfish
Fresh monkfish from Pucci Foods has a unique, delicate flavor similar to lobster, and is incredibly versatile. The fish can be baked, grilled, sautéed, broiled, fried, poached or barbecued. It's as accessible a fish as any cook could hope for, and a whole lot easier to prepare and eat than lobster. Instead of having to crack and pry and scrape, you merely need a fork.
From "Garbage" to Gourmet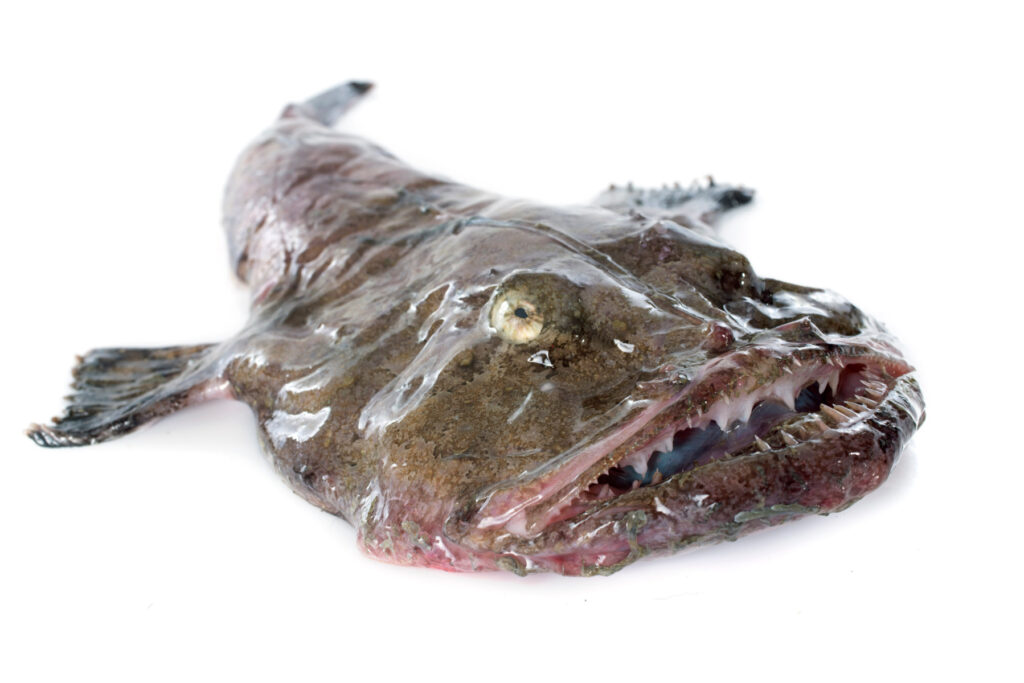 The monkfish won't win any beauty contests, especially fresh out of the water. Those needle-like teeth in that huge mouth, and those frog-like eyes don't necessarily scream "fine dining." Adding insult to injury, it wasn't long ago that the monkfish was considered a garbage fish, sold for pennies by fishermongers who could be convinced to carry it. But in the 1980s and 1990s, French cooking, which celebrates the white, lean flesh of the monkfish, gained influence in America. Before long, the monkfish earned the nickname "poor man's lobster," because of its similar smell, texture, and taste. Today, the monkfish has made a full recovery from its unsavory reputation as "trash" and can even sell for more than lobster. Its delicate, sweet, mild flavor comes with added health benefits, including low cholesterol and high vitamin B.
Here are a few popular recipes to help you put monkfish at the center of a sumptuous meal.
From The Food Network:
Rosemary Skewered Monkfish with Pancetta and Bread
Ingredients
1 pound (455 grams) trimmed monkfish tail
1 1/2 ciabatta loaves, crusts removed
4 (10-inch/25 centimeter) fresh rosemary twigs
1 clove garlic, peeled
Extra-virgin olive oil
Sea salt
Freshly ground black pepper
12 rashers pancetta or smoked streaky bacon
1 to 2 tablespoons good balsamic vinegar
Directions
Preheat the oven to 400 degrees F (200 degrees C). Cut the monkfish into 1-inch (2.5 centimeter) dice and add to a bowl with the ciabatta, ripped up into similar-sized pieces. Keeping the top 2 inches (5 centimeters) of rosemary leaves, run your thumb and forefinger down the length of the stalk, removing all the leaves. Throw these into a pestle and mortar and bash up with the garlic. Then stir in 5 or 6 tablespoons of extra-virgin olive oil. Pour this over your monkfish and bread and toss around. Now begin to skewer the kebabs. At an angle, slice the tip off the rosemary stalks, so they are sharp. Put a piece of monkfish on first, then bread, and repeat until you have about 3 pieces of monkfish and about 3 pieces of bread on each kebab and lightly season. Loosely wrap 3 pieces of pancetta round each kebab, weaving it in and around the fish and the bread. Place the kebabs on a roasting tray, sprinkle with any leftover oil and rosemary, and bake in the preheated oven for 15 to 20 minutes, until the bread is crisp and golden. Drizzle a little balsamic vinegar over each piece of monkfish, then a little extra olive oil and any juice from the tray. Serve simply with a good salad. Happy days.;
From Food & Wine:
Monkfish in Tomato-Garlic Sauce
Ingredients:
1/4 cup plus 3 tablespoons extra-virgin olive oil
2 heads of garlic plus 4 large cloves, peeled and very thinly sliced
1 tablespoon sweet paprika
1 cup canned crushed tomatoes
2 cups water
Salt and freshly ground pepper
Eight 6-ounce cleaned monkfish fillets, about 2 inches thick
Directions
Preheat the oven to 400°. In a large skillet, warm 1/4 cup of the olive oil. Add the sliced garlic and cook slowly over very low heat, shaking the skillet, until the garlic is deep golden, 15 minutes. Remove about 1/4 cup of garlic slices to a plate and reserve. Add the paprika to the garlic in the skillet and cook for 1 minute. Add the tomatoes and cook over moderately high heat for 1 minute. Add the water and simmer until the sauce has reduced to 1 1/2 cups, about 10 minutes. Season with salt and pepper.
In a very large skillet, heat the 3 tablespoons of olive oil. Season the fish with salt and pepper. Cook over high heat until browned on the bottom, 2 minutes. Turn the fish, transfer to the oven, and roast until just cooked through, 15 minutes.
Transfer the fish to a large, warmed platter. Pour any juices from the skillet into the sauce and simmer for 2 minutes. Spoon the sauce onto plates and set the fish on top. Scatter the fried garlic over the fish and serve right away.
From Bonjour Paris:
French Cooking: Marvelous Monkfish
Ingredients
4 tbsp. Olive oil
1-½ lbs. Monkfish, sliced thickly
2 red peppers, cut into thin slices
2 tomatoes, peeled and diced
2 onions, chopped
2 garlic cloves, chopped
½ tsp. Cayenne pepper
½ cup dry white wine
salt and pepper, to taste
8 basil leaves, chopped
Directions
In a skillet, heat the oil and brown the monkfish on both sides (4 minutes each side). Remove from the pan and set aside. Add the onions, peppers, tomatoes and garlic. Season with salt, pepper and cayenne. Add the white wine and cook over low heat for 15 minutes. Add the monkfish, cover and cook for 10-12 minutes. Sprinkle with basil and serve immediately.