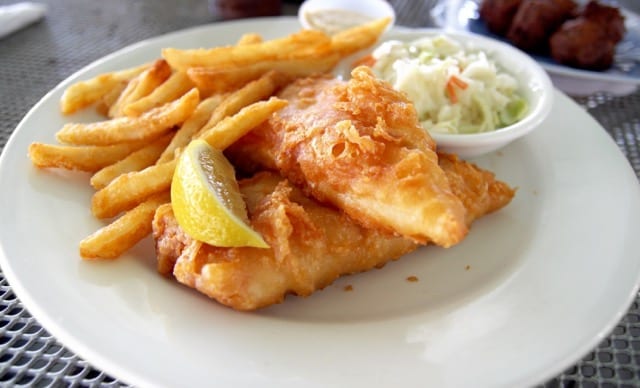 It's back. June 1st marks this year's National Fish and Chip Day in Britain. But seafood markets here in the Bay Area would be wise to join in the budding tradition. Who doesn't love the winning combination of battered fish and crispy, deep fried potatoes? This is a meal not only rooted in history, but one that satisfies our taste buds, and our craving for comfort food.
First, a little trivia. Fish and chips got its start back in the late 1800s, when trawl fishing became a major part of the industry in the North Sea, off England's east coast. Trawl fishermen were able to bring a steady supply of fresh fish inland. Cities that suffered a limited supply of seafood before sprouted bustling fish markets. Along with the easy availability, came affordable prices for the working class.
The practice of frying fish coated in flour or batter was first brought to England by Western Sephardic Jews in the 17th century, according to experts. It's believed deep fried potatoes or "chips" gained popularity at around the same time. By 1900, vendors serving fish and chips on the streets or in small shops had spread all across England. They quickly gained a reputation for hearty, delicious food, and a nickname: Chippers. It was only a matter of time before a fillet of sizzling, fried white fish next to a pile of crispy potato wedges became a favorite meal in Ireland, Canada, India, parts of Europe, and, of course, the United States.
Here in the San Francisco Bay Area you can find top restaurants and greasy spoons alike serving a version of fish and chips. It's a menu must-have. But it's also a meal many enjoy whipping up themselves, at home. Be sure to let your seafood market customers know about Fish and Chip Day this year, and place your white fish varieties, from cod to tilapia prominently. (For all our sustainable white fish options, simply visit the Pucci Foods catalogue.) For customers who want to join the celebration but aren't that confident in the kitchen, here are a few tips to share with them.
Secrets to Delicious Fish and Chips
The Batter: There are a few choices when it comes to batter, but beer batter might just win out when it comes to authenticity and taste. Whether you use a beer batter or a milk and egg batter, make sure to coat the fish in flour thoroughly first, or the batter will slide right off the fillets. For beer batter, mix a teaspoon of baking soda with a cup of flour and salt and lemon, if desired. Pour about eight ounces of beer into the mixture gradually, and stop when you have a thick batter. For milk and egg batter, mix a teaspoon of baking soda with a cup of flour and a teaspoon of both salt and pepper. Then stir in a cup of milk and an egg. Let stand for twenty minutes and batter your fish.
The Oil: Fish is a delicate meat, and can get dry or rubbery if cooked at high temperatures. Hence the solution of flour and batter, to protect the fish when deep fried. If done right, you end up with a crisp, outer shell, a tender, moist fish inside, and very little grease. The expert advice when it comes to deep fat frying is temperature, and oils that can sustain higher "smoke points" before breaking down. Aim for between 360 and 380 degrees, in an oil like extra-light olive oil, safflower oil, or soybean oil. You also want to make sure that you have enough oil in your fryer that the temperature doesn't drop when you put the fish in. If you're frying in something small, cook fillets one or two at a time.
The Chips: Many fish and chip recipes recommend putting your potato chunks in a bowl of cold water before frying them. But the real insight is that the chips are fried twice. First, fry the potatoes for about three minutes, until they are soft. Take them out, drain them, fry the fish, and then re-fry the chips. This time, cook them until they are golden and crispy on the outside.
The Side Sauce: Don't forget to serve this along with something to dip that scrumptious fish in. Tartar sauce, malt vinegar, mayonnaise, or lemon are tried and true options.
National Fish and Chip Day falls on the first Friday in June each year.