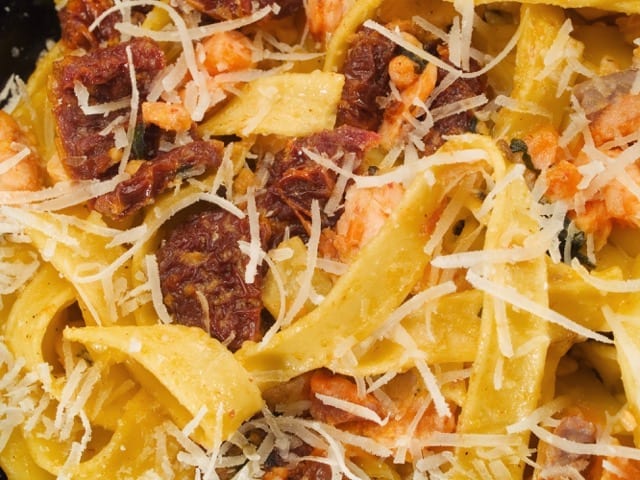 Here in the San Francisco Bay Area, comfort food often means seafood, from tender mahi mahi steaks or slabs of juicy salmon, to bowls of creamy, salty, clam chowder served with a side of fresh sourdough bread. As the last of California's summer days pass through, make comfort food the focus of your fish counter.
There is a wide variety of fresh fish in season this time of year. Just take a peek at the Pucci Foods catalog. So what spells comfort? Nostalgia and simplicity are often the key ingredients in comfort food—crispy, battered halibut served on special family occasions, or the crab cakes your Grandmother was famous for. And, let's admit it. Comfort food is usually comforting because it's rich and filling as well as delicious, so break out the fryers, the butter and the oil.
We've chosen a few recipes below that qualify as fresh, comfort seafood. But you may want to rely on your own family traditions and taste buds to create prepared food specials this month. Go a step further and label those comfort food specials after their namesakes. For instance, if your Aunt Mary made the best pan fried sole with the perfect blend of spices, name your special after her. If Grandpa Frank whipped up a big pot of satisfying yellowtail rockfish chowder when the family was visiting, give him some credit, because believe it or not, nostalgia has its own health benefits.
In a recent study, scientists found that feelings of nostalgia improve mood, and possibly even mental health. Along with the bittersweet emotion, people in the study felt more connected with their past, and also felt greater continuity in their own personality, and social communities across time. The positive feelings about self also triggered a sense of vitality of energy and spirit, according to authors of the study. So this September, serve up a dash of nostalgia in your fresh fish comfort food specials. There's no going wrong.
Creamy Sun-Dried Tomato Salmon Pasta
INGREDIENTS:
1 1/2 pounds salmon fillets, with or without skin

3 large garlic cloves, minced

1/2 yellow onion, minced

1 small jar (3-4 oz) sun-dried tomatoes in oil, drained and sliced (reserve 2 tablespoons oil for the recipe)

1/4 teaspoon paprika

1 cup half and half

1/2 teaspoon Italian seasoning

1/4 teaspoon crushed red pepper flakes

1/2 cup vegetable stock (or 1 crumbled bouillon cube with 1/2 cup water)

Salt and fresh ground pepper, to taste

8 oz farfalle pasta

Parmesan cheese, freshly grated

Fresh chopped basil
DIRECTIONS:
1. Cook pasta until al dente. Drain, reserving some pasta water and set aside.
2. Lightly season salmon fillets with salt and pepper. In a large non-stick pan on medium heat, sear salmon fillets in 2 tablespoons oil, 2 – 3 minutes on each side. Remove salmon from the pan and set aside.
3. In the same skillet add 2 tablespoons oil reserved from the sun-dried tomatoes jar, saute onion, garlic, sun-dried tomatoes, paprika, red chili pepper flakes and Italian seasoning for 1 minute until garlic is fragrant.
4. Add vegetable stock to deglaze the skillet and bring to a gentle simmer. Add half and half to the skillet and stir until a creamy sauce forms. Adjust seasoning with salt and pepper.
5. Remove the sauce from heat. Stir in cooked pasta and mix well. Add a bit of pasta water to dilute the sauce if it's too thick.
6. Add salmon back to the skillet over pasta and reheat for a few minutes. Sprinkle with fresh basil and serve immediately.
Seared Mahi Mahi with Zesty Basil Butter
INGREDIENTS:
3 tablespoons unsalted butter

1 1/2 teaspoons freshly squeezed lemon juice

1 large garlic clove, finely chopped

1/4 teaspoon salt, plus additional for seasoning

1/4 teaspoon freshly ground black pepper, plus additional for seasoning

1 1/2 tablespoons chopped fresh basil leaves

3 tablespoons olive oil

4 (6 to 8-ounce) mahi mahi fillets
DIRECTIONS:
Zesty Basil Butter:
Combine the butter, lemon juice, garlic, salt, pepper, and basil in a medium saucepan and cook over low heat, stirring until the butter melts. Cover and keep warm over low heat.
Heat the oil in a large skillet over medium heat. Season the fish with salt and pepper, to taste. Cook the fish for 3 minutes; then turn and cook until just opaque, about 3 to 4 minutes more. Transfer the fillets to individual plates.
Spoon the warm basil butter over the fish and serve.
(Recipe courtesy the Deen Brothers)
Monkfish in Tomato-Garlic Sauce
INGREDIENTS:
1/4 cup plus 3 tablespoons extra-virgin olive oil

2 heads of garlic plus 4 large cloves, peeled and very thinly sliced

1 tablespoon sweet paprika

1 cup canned crushed tomatoes

2 cups water

Salt and freshly ground pepper

Eight 6-ounce cleaned monkfish fillets, about 2 inches thick
Directions:
Preheat the oven to 400°. In a large skillet, warm 1/4 cup of the olive oil. Add the sliced garlic and cook slowly over very low heat, shaking the skillet, until the garlic is deep golden, 15 minutes. Remove about 1/4 cup of garlic slices to a plate and reserve. Add the paprika to the garlic in the skillet and cook for 1 minute. Add the tomatoes and cook over moderately high heat for 1 minute. Add the water and simmer until the sauce has reduced to 1 1/2 cups, about 10 minutes. Season with salt and pepper.

In a very large skillet, heat the 3 tablespoons of olive oil. Season the fish with salt and pepper. Cook over high heat until browned on the bottom, 2 minutes. Turn the fish, transfer to the oven, and roast until just cooked through, 15 minutes.

Transfer the fish to a large, warmed platter. Pour any juices from the skillet into the sauce and simmer for 2 minutes. Spoon the sauce onto plates and set the fish on top. Scatter the fried garlic over the fish and serve right away.
(This recipe adapted from Food & Wine)